As a follow up to my "Spanning Further with Splice Girders" article from January 2020, I'm highlighting a splice girder bridge design I worked on. The Rockingham Bridge Project should be complete by September 2020, having built two bridges that should last for at least 100 years if not more!
Bridge construction takes teamwork, just like design. Challenging projects like these involve a lot of behind the scenes coordination and thought on how to get the bridge off the paper and into reality. A number of novel techniques were employed during erection of these bridges. Rolling slowdowns to deliver girders, attaching the bearings to the girder prior to setting them (entirely new to me) and precision erection techniques all contribute to a memorable construction project.
The first girders were erected in June of 2018 and the last girders were erected just last month. Once set in place, prestressing strand is pushed into the ducts in the girders and the series of segments is post-tensioned together to form one continuous girder.
While demolition of the northbound bridge involved felling the existing piers like trees, the southbound bridge was a little different.  To expedite construction, the new piers were started prior to demolition of the superstructure.  This meant that the existing piers had to be removed piece-meal.
The piers look extremely slender for being so tall, and they are. But to get around the contract slenderness limits, two bearings were employed at each girder line at each pier to increase the rotational stiffness, thus modifying the effective length factor of the column which is a measure of the column's end support conditions.
Much care has been taken to achieve a 100 year service life. Extensive use of stainless steel, dense concrete and up-sized H-piles should allow these bridges to stand for many, many years.
The segments used were some of the largest ever fabricated by J.P. Carrara. There were weight limitations imposed on the design as well as height limitations, and the final design is a compromise between a great final design and what is possible as far as lifting and delivery.
Check out these articles, technical papers and presentations which offer more in depth background on the Rockingham Bridge Project.
Design-Build Team Erects Twin Bridges in Vermont by Johanna Knapschaefer – March 17, 2020
Design and Construction of the Rockingham Bridges by Nicholas T. Rodda – September 2017 courtesy of the Western Bridge Engineers' Seminar.
IBC 18-30: Replacement of the Rockingham Bridges Using Precast Spliced Girders Technical Paper by Chester Werts and Nicholas T. Rodda – June 12, 2018 courtesy of the International Bridge Conference. Paper can be ordered at the link above using the paper number, year and author.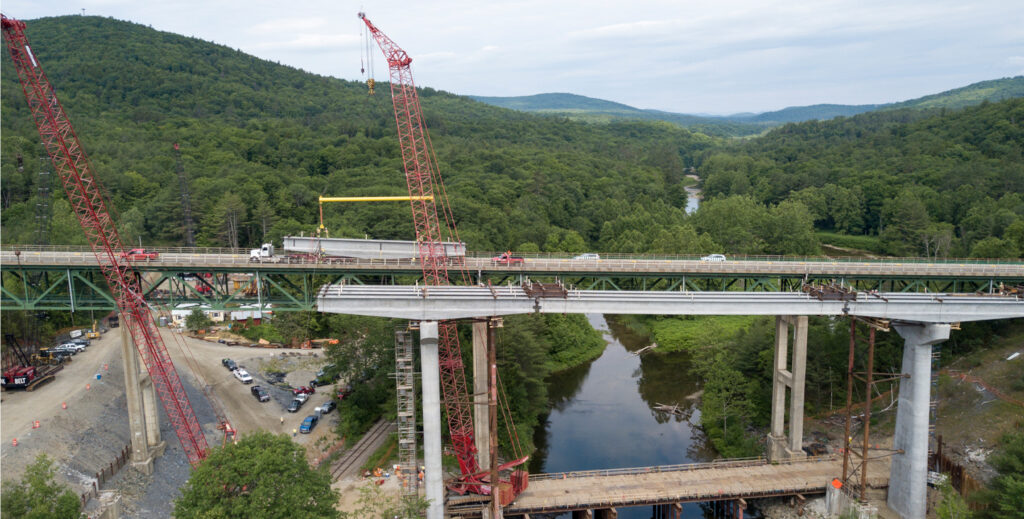 Views: 1235