The number of timber bridges still in service may be small and shrinking, but they are still an important part of our vulnerable infrastructure system. Consigned to secondary routes, many timber bridges are among the older of our bridge assets. Its hard to pinpoint exactly when timber fell out of favor as the material of choice among bridge designers but the reasons why are not surprising. Cost. As any economist will tell you, switching from one product to an alternate product will only occur when the cost of the alternate drops below the cost of the original.
Timber or wood is probably the oldest building material, it's certainly up there with stone. Medieval castle builders probably would have used timber but then marauders laying siege could have just burned them down. Its cheap and plentiful – who doesn't have a grove of trees nearby? Its renewable – cut a tree down and in a few years, you'll have another one. And it is naturally strong – you really don't need to do anything to a piece of wood to give it strength. So what's not to love?
A lot of things, as it turns out. Wood burns, but people would have known that since we had invented fire long before we decided to build anything with it. The fact that it will burn is a bit more relevant than the fact that it can burn, just don't intentionally try to set your timber bridge on fire. That it is an organic material means there are things out there that love to eat wood. And perhaps its biggest weakness, wood and moisture mixed together for long periods is not a good thing. Being an organic material, wet wood is a wonderful way to invite other smaller creatures in for a nibble at your wood structure.
Humans have adapted to wood's weaknesses by coming up with ways to overcome them. Your home is most likely made from wood and in order to prevent your setting it on fire while cooking dinner, gypsum has been devised as an attractive cover for wood that happens to have fire resistant properties. Vapor barriers and various treatments can prevent insects such as termites from eating wood. And various details, coatings and claddings have been adopted to keep wood from contacting the damp ground and keep it dry. Doing these things means wood can last a very long time as a structural material.
But bridges are not homes. They are not clad in gypsum and HardiePlank siding. So what about them?
Probably the oldest form of preserving timber is through the application of creosote. Creosote can be made from a wide variety of materials, from fossil fuels to wood itself. Timbers to be treated would essentially be cooked in the stuff, which would soak into the fibers of the wood and give the timber anti-rot properties. Creosoted timbers installed years ago are still around and some still look great. Fantastic stuff from an engineer's perspective. The very devil to you environmental folks.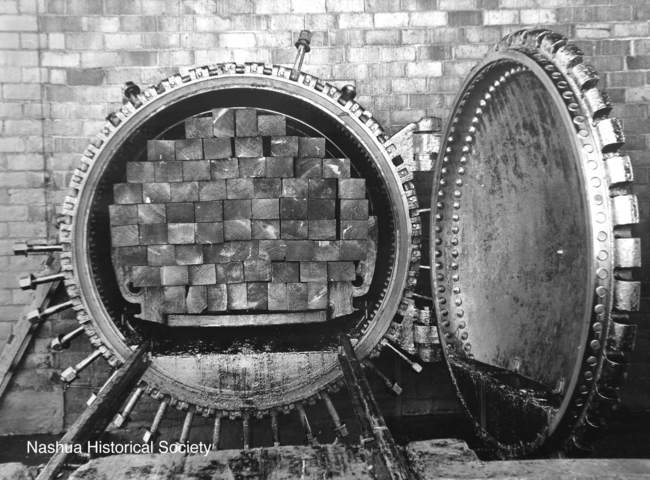 When creosoting was phased out, other chemicals were used to treat timber. Pressure treated timber had the preservative injected into the wood so that it would penetrate deeper. This is obvious to anyone who has been to the local hardware store. But like all things, preservatives have been scaled back in recent years to the point where it is so watered down now that pressure treated lumber often doesn't last much longer than the untreated version.
So for those handful of bridges out there that are still in service, how do you maintain them and keep them going? The key is to find rotten timbers and replace them before they become dangerous. Bridge inspectors will use hammers to "sound" timber elements. Like tapping a wall looking for the studs when hanging a picture, sounding timber means listening for the difference between a strong, dry piece of wood and a water logged piece and a hollow piece. A hollow sound means the timber has begun to rot internally and has lost strength. Inspectors will then test this by drilling a small hole and carefully measuring the rot pocket and the shell that remains.
Timber piles can often rot since they can wick water from the ground up into the wood.  Mix in oxygen, and micro-organisms can have a feast.  Rot of piles often occurs within a few feet of the ground line and checks and splits can accelerate the problem.
One typical repair I like involves cutting out the bad section and inserting a steel splice. A collar like device is fabricated to fit the pile. The rotten portion is removed, the collars are placed on the top portion and the bottom portion of the remaining pile. A jack is placed between the two collars. The pile is jacked back to the dead load required, a tube portion with a full length slot cut in it is placed over the jack and is field welded to the collars. The jack is removed and a cover plate is placed over the slot.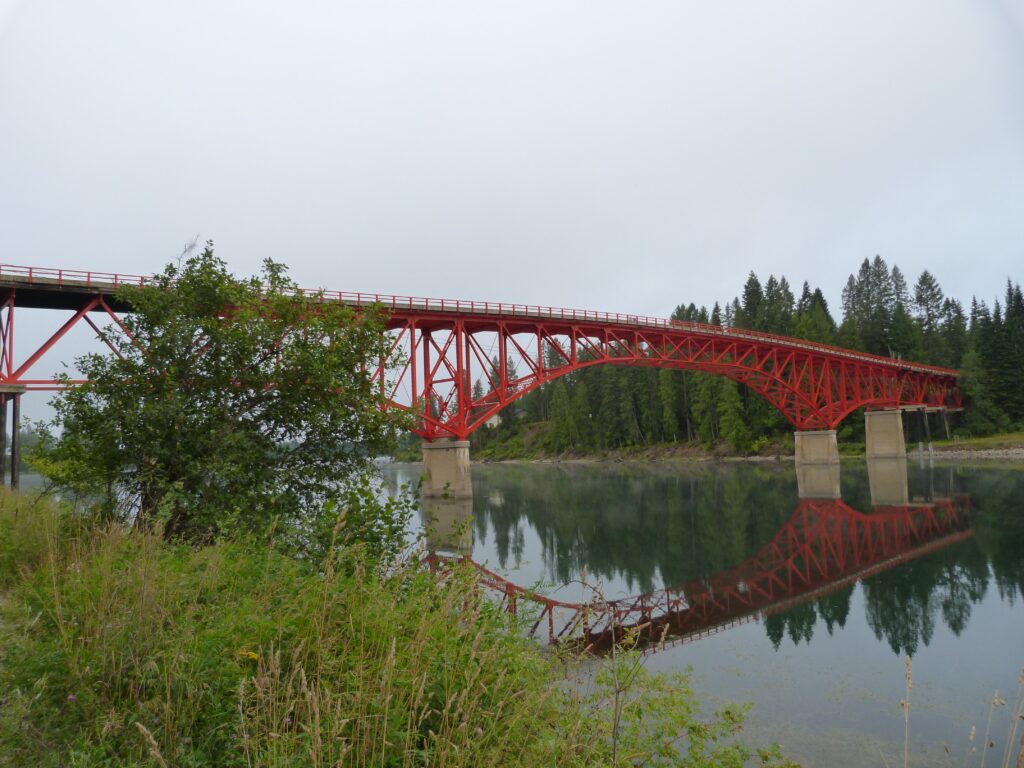 Wrapping piles is also a solution for dry piles as a way to strengthen rotten piles. However, it is not a good solution for piles founded in bodies of water as it does nothing to stop the wicking action of the water and continuation of the rot. Many times you will see timber piles wrapped with FRP or a similar material.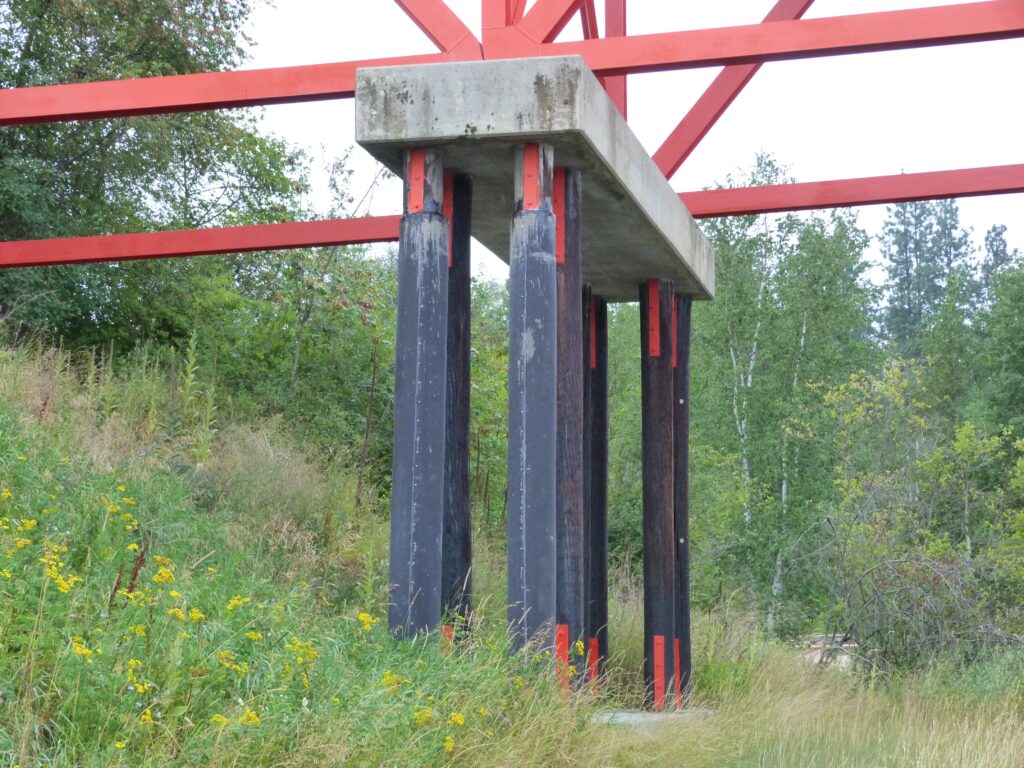 Another way that timber piles deteriorate is being eaten by pests. This may sound like termites, but there are actually marine organisms that like timber too. Take the Simpson Avenue Bridge is Aberdeen, Washington. During an inspection, it was discovered that the eastern bascule pier was tilting toward the Hoquiam River. When the leaves were down the tips were not in alignment. A problem with the substructure was suspected and an underwater inspection was undertaken.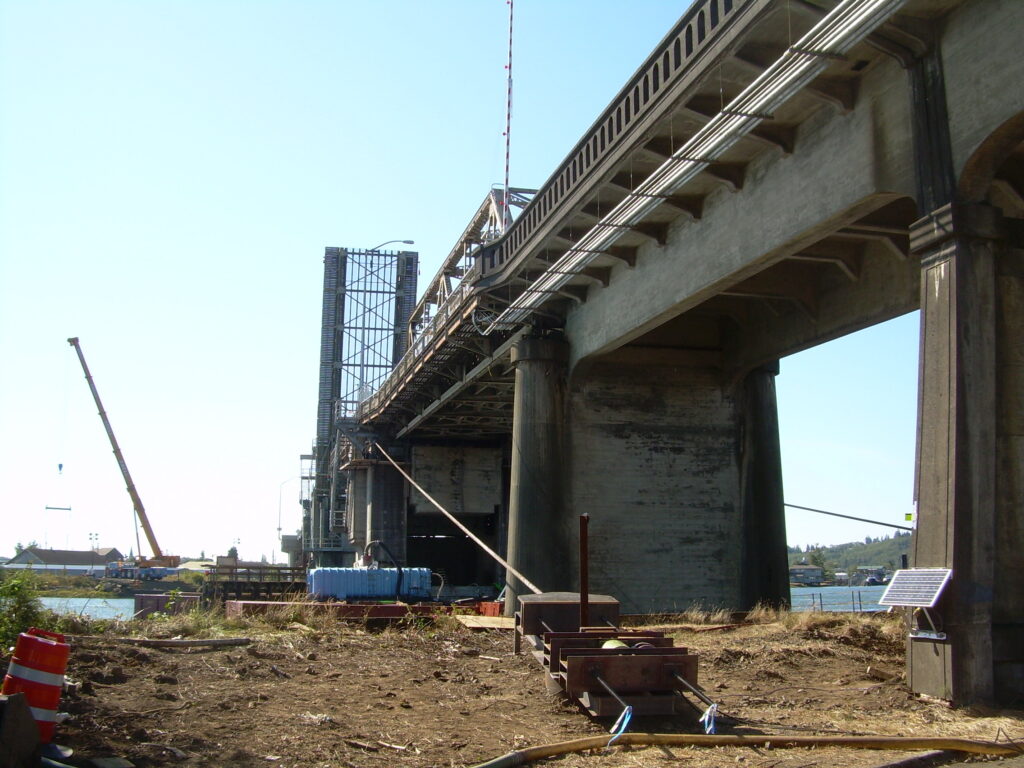 Marine borers have moved in and approximately half of the pier's timber piles were completely gone. Scour had exposed the piles and the organisms had moved in for a feast. Temporary measures were taken to stabilize the pier and eventually the entire pier was jacked up and placed on an entirely new foundation.
Pile caps are another source of rot.  Decks begin to leak over time and debris will fall down on to the pile caps.  This most deadly combination traps moisture up against the timber.  Treated timber can withstand some amount of moisture, but it must be allowed to dry in between applications.  If the spot remains damp year round, even the best treatment will succumb to rot.
One tip to help preserve replacement caps is to use felt or roofing paper to cover the top prior to installation.  If done correctly, this will help shed water from direct contact with the top of the cap.  Any debris accumulation will now have a moisture barrier between it and the precious wood.  This does not replace treatment of the wood itself, but is a good best practice to follow.  You may have even seen this detail used on your deck.
As we harvest our timber earlier and earlier, large sizes for rough sawn lumber are either becoming hard to find or extremely expensive. One alternative being used by some maintenance crews is glue laminated timbers or Glu-Lams. Glu-Lams are the timber equivalent to a plate girder. If you can't find the correct size hunk of wood, make it! Glu-Lams use smaller cross sections of wood that are glued and pressed together in the right sequence to achieve superior strength properties compared to the rough sawn equivalent. Generally, Glu-Lams can be fabricated to any size required – making them great for those odd sizes encountered on bridges.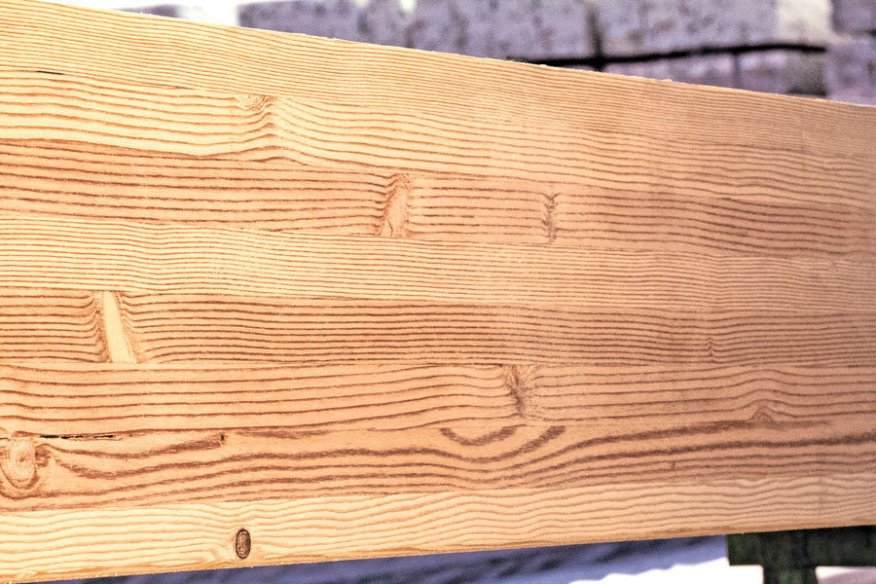 It may come as a surprise, but going with an equivalent Glu-Lam may actually give you an increase in strength over rough sawn lumber. Because rough sawn lumber has so many variables, the listed design strength values may actually be reduced because of uncertainty. With Glu-Lams, this uncertainty is reduced, so much so that the Glu-Lam may be rated higher in strength as a result. This can be beneficial on bridges for load rating purposes. Bridges that were going to need load posting may have new life given to them by using Glu-Lam sections.
Steel can be used, but often the time and cost required for fabrication can be a lot more than being replaced in kind by timber. Steel is also used to strengthen rotten caps by means of sandwich plates. These plates effectively replace the timber for strength as an alternative load path for transferring load from the superstructure to the foundation.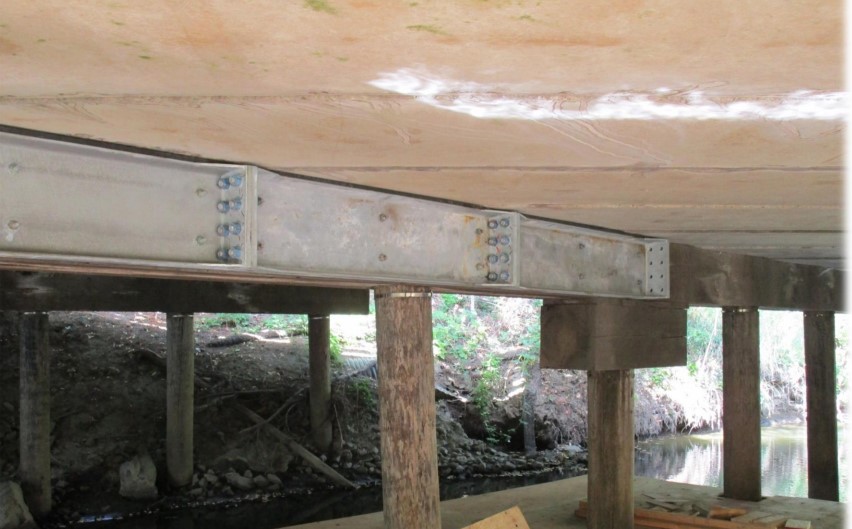 Australia is one country where timber bridges are still the norm and may still be built new. But ever larger trucks with heavier axles are becoming more common in Australia. Getting creative, engineers down under are even seeking out testing on new components to verify capacity calculations. Using full scale load tests, engineers are able to more confidently predict when a component will fail. In the case of timber bridges, this can often result in more capacity being squeezed out of a component. Either these elements can be used to span farther with less material or they can be used to support greater loads than before.
From a life-cycle cost standpoint, timber bridges may not make a lot of sense. The very nature of the material itself doesn't really lend itself to a 75 year service life without continual maintenance. Still, wood is probably one of the only truly renewable structural materials in existence. But concrete rubble can be re-used and steel can be re-used, so this is not entirely true. But putting that debate aside, there are things we can do to extend the life of timber bridges. Simple things. If humans are good at anything, it is finding ways to adapt to our current predicaments.
Views: 1899